Interview with 2nd team awarded
by Kaira Looro 2021
Interviewed: David Gonçalves, João Dias, Gonçalo Santos André, Pedro Gomes, Daniel Simões



Can you tell us more about your team?
We are all close in age, and our paths first crossed at different stages of our academic journey at the Faculty of Architecture of the University of Lisbon. Despite our similarities and friendship, we all have different perspectives and a different way of thinking architecture. But we always found great inspiration and a mutual admiration in each other's work that motivated us to develop this proposal together. We ended up finding, throughout the process, a shared view in our way of thinking that undoubtedly contributed to a more conscious and complete project, capable of responding to the different challenges.
What was your feeling when you knew you were among the top projects of the competition?
At first it was a surprise. Before knowing the results, we were confident in the quality of our proposal, but we were aware of the challenge this competition represents. This is a contest of international dimension, which every year receives many proposals of undeniable quality and diversity from all over the world. But the surprise quickly turned into great joy and excitement that we all shared, knowing how honoured we were to receive this distinction and how important it was to see our work and effort recognized.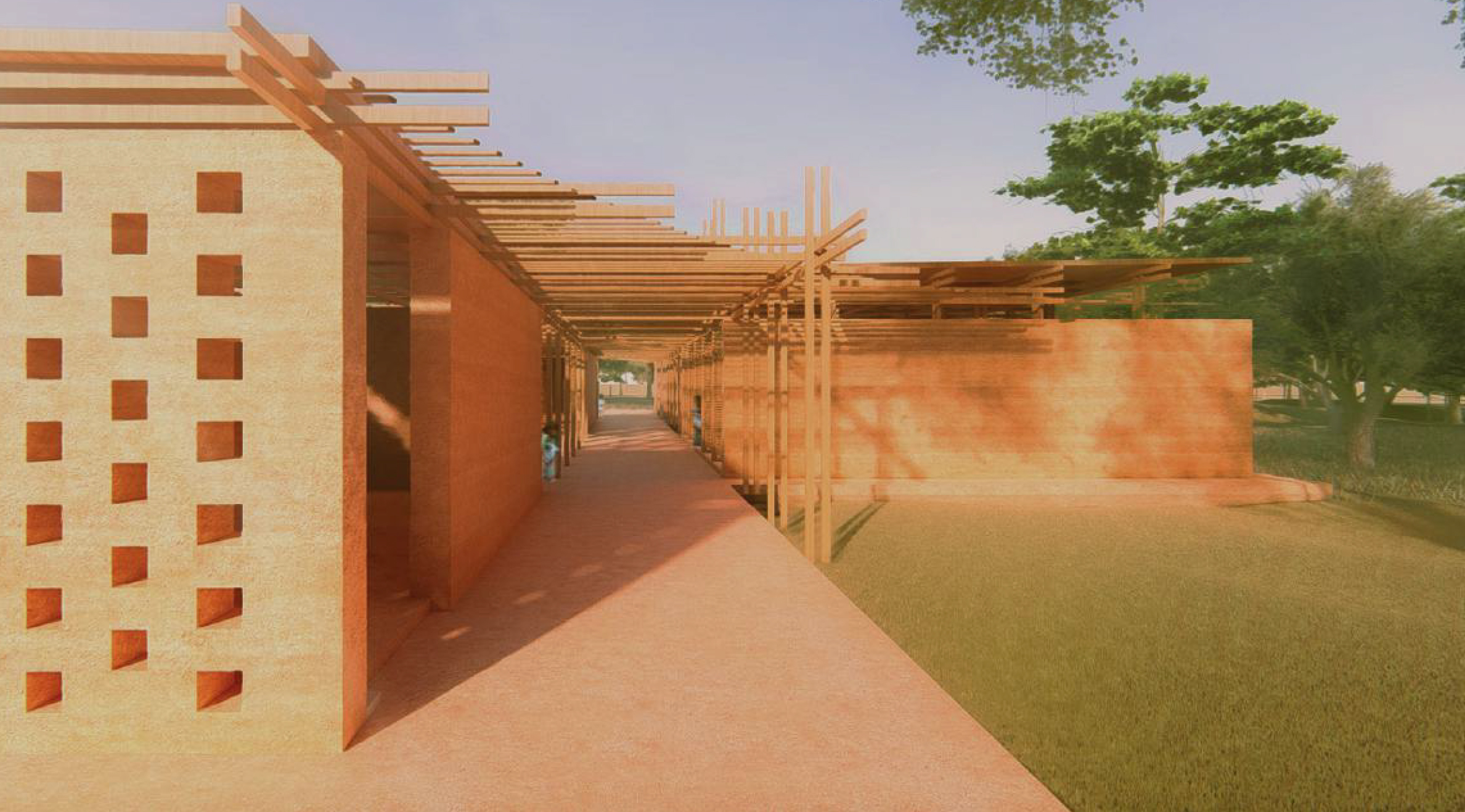 Can you briefly explain the concept of your project and which is the relationship between it and the Gender Equality?


Our proposal hinges around two key elements. The main street, which emerges as a natural consequence of the existing pedestrian paths and is to where all the spaces converge, and the open-air amphitheatre, which serves as an invitation to those who walk through the village, encouraging its use and welcoming everyone. This comes from the understanding that public and common spaces are essential to serve the humanitarian purpose of the building. Both spaces are designed to encourage connections and sharing of ideas. Every other space revolves around them. The values of sharing and inclusion guided our work and were what we found to be key to the success of our mission to promote gender equality and female empowerment. We wanted the building to give an opportunity and a voice to all those who want to be heard in a safe, inclusive and welcoming environment. This may be the missing catalyst for the wishes and desires of women in this community (and beyond) to finally be taken into account.
Which aspects of a design do you focus more during designing?
We believe in the transformative power and active role Architecture can play in improving the quality of life of people and communities. So the first step for us was to discover not the most appealing geometry, but the human values we wanted the space to convey. We first thought about how we wanted people to feel while inhabiting the space, how it could enhance positive relationships between all those who use it and benefit from it. Then we tried to reflect these intentions in our design process and, ultimately, in our building.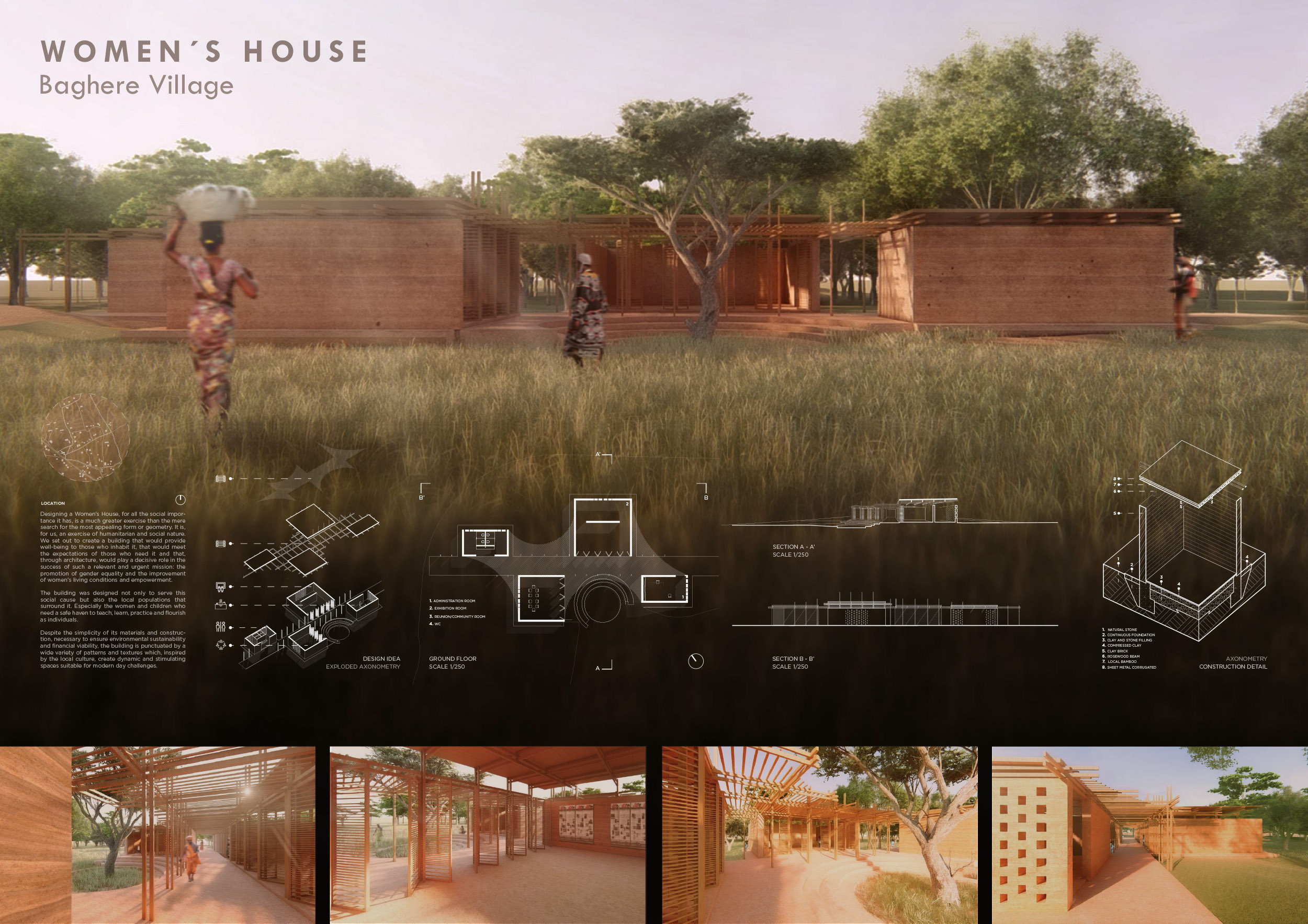 How did the material choice affect your design?
v We were faithful to the materials that the organization made available to us, to assure environmental sustainability and economic viability of the building. But despite their apparent simplicity, and by combining them in different ways, we created a variety of patterns and textures that gave great diversity to the spaces. We believe that, even if they had not been suggested by the organisers, the integration of these materials in our project would have been inevitable. There was a great desire on our part to design a building that would serve not only the fight for women's empowerment, but that would also serve the surrounding communities in their daily needs. This led us to a design very closely linked to local culture and knowledge, one with which the community could identify.
Has your project been inspired by anything-in particular, by some project in developing countries or past projects of Kaira Looro?
Both the projects from past editions and other projects in developing countries (mainly in Africa) were a source of inspiration for us. The constraints of this competition, like the tight budget available required a reinvention of our creative process. Without a doubt, the originality of the proposals from past competitions and projects from renowned architects with undeniable experience in similar contexts, such as Francis Kéré, made our work much richer.
How your idea of architecture can impro

ve Women's Empowerment in developing countries, and how the women community concerned could perceive this architecture?
In Europe, and particularly in Portugal, which is the reality we are familiar with, there is still a lot of work to be done to achieve true gender equality. But we are aware that, even so, we live in a very privileged context. Therefore, to say that we fully understand the struggle of these women in their daily lives would be unfair. We tried to face this challenge with modesty, trying our best to understand the challenges and expectations of the people and women this building seeks to serve. Understanding this, we tried to give women and the larger community a stage where they could express themselves. Where dialogue, exchange of experiences and inclusion could take place.
From your point of view, what are the responsibilities of architects in dealing with complex issues such as women rights or architectures in developing countries?
The biggest change has to occur at a social level, through increasing awareness and education of people in order to progressively break down stigma, prejudice, and to finally give women the same opportunities as men. But we think that architects have an important role to play in such an important and complex challenge. Our responsibility is to listen to people, to understand their struggles, their aspirations and, with that knowledge, to be active agents ourselves, putting architecture at the service of this and other humanitarian causes by creating spaces that provide the means for the necessary social changes.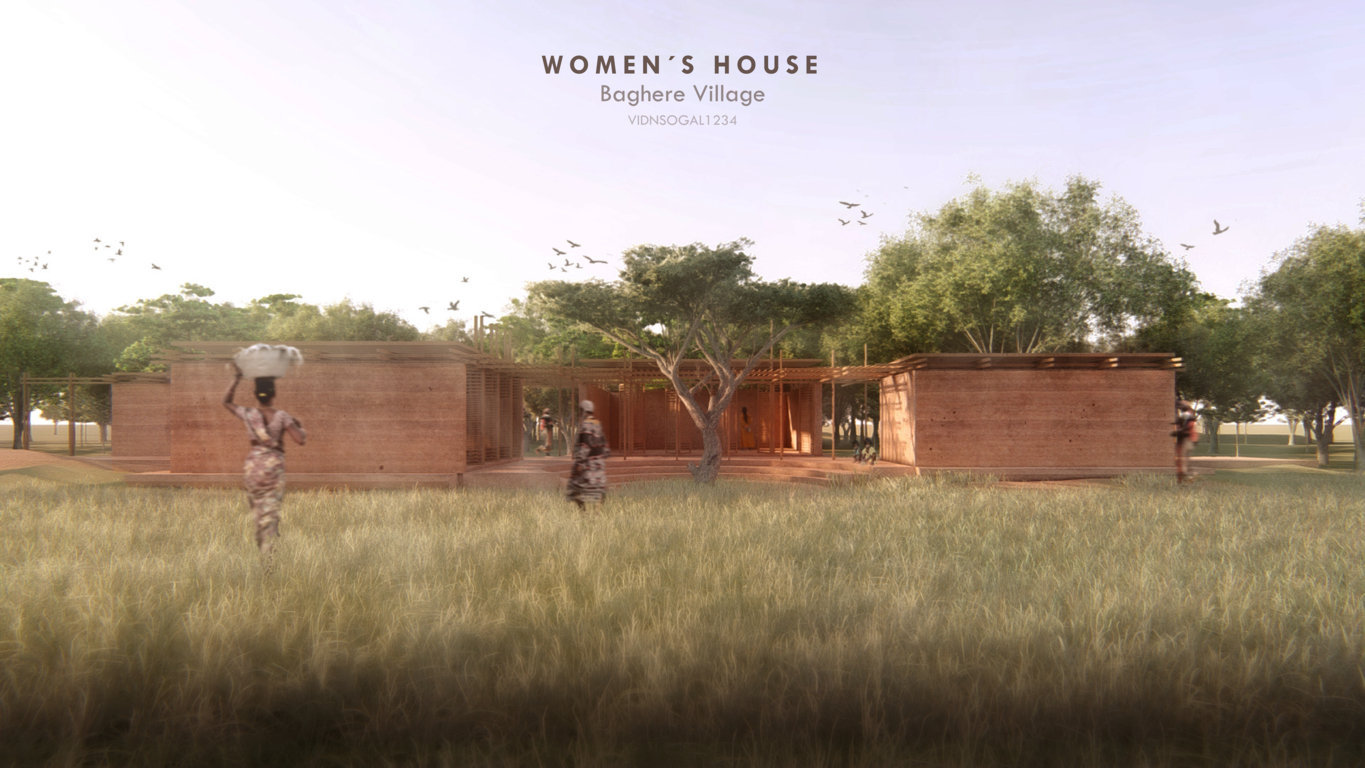 The aim of the competition was also to improve the research on the topics of sustainable architecture with natural and recycled materials. How do you feel that contemporary architecture is approaching these topics?
It seems to us that contemporary architecture is increasingly more aware of these issues, which represents a very positive and absolutely necessary paradigm shift in order to ensure the future of the planet and all its living beings. However, we believe there is still a long way to go. Today's construction has a huge impact on environmental sustainability, both in terms of resources used and the balance of ecosystems, and we feel that these dimensions are still not properly taken into account. Both during the construction and during the useful life of the building. It is a path that we all have to take, to better understand the developments that are being made in areas that complement ours. Renewable energy sources and sustainable building technologies are essential aspects to consider in a future, more holistic, approach.
The competition registration fee, was devolved to the non-profit organization Balouo Salo that helps people in disadvantage area of Senegal. How it has affected you approach to the competition?
These contests are essential to promote equality, sustainability and the quality of people's lives and we are pleased to learn that the money of the registration fee was given to the non-profit organization Balouo Salo.
The aim of the competition is also to give professional opportunities to young architects with internship prize and visibility at international level, and we wish your team the best achievements for your career. How do you think you will be in next 10 years? According to you, can this award affect your future?
That is a hard question, mainly because of the plurality of visions within our group. We have different ideas about what we want for our lives, but we are united by the will to build our careers doing meaningful and fulfilling architecture. We are sure that the opportunity to intern in a prestigious international studio will help us make this dream come true. But regardless of that, it will always be an experience of enormous personal growth, which will certainly open the horizons and perspectives for all of us.
---