WORKSHOP PROGRAM
Città della Scienza, via Simeto 23, Catania




September 4, 2016


h. 9-13
Participants registration and welcome



h. 17-19
Opening event
Formalization of groups and assignment of project themes



from 5 to 10 September 2016
h. 9-19

Workshop (h.13 - 14 lunch break)

h. 19 - 21

conferences



h.19 of September 10, 2016
delivery of documents project



September 11, 2016
h. 9-13
workshop



h. 17-19
Closing Event

September, from 12 to 18, 2016
Kaira Looro exhibition in Città della Scienza, Catania, Italy

September, from 19 to 30, 2016
Kaira Looro exhibition in Fon Art Gallery, Sheraton Hotel, Catania, Italy


---
conferENCE
Città della Scienza, via Simeto 1, Catania




4 September 2016, 19 pm
Kengo Kuma - Kengo Kuma & Associates

5 September 2016, 19 pm
Angelo Ferrara - Juri Troy Architects
Rainer Kasik - X Architekten

6 September 2016, 19 pm
Carmine Chiarelli - Arcò
Azzurra Muzzonigro - Stefano Boeri Architetti

7 September 2016, 19 pm
René Bouman - Mohn + Bouman
Pilar Diez Rodriguez

8 September 2016, 19 pm
L. Castelli & C. Alfieri - Citterio & Viel Partners
Ko Nakamura - Kengo Kuma Lab University Tokyo

9 September 2016, 19 pm
Giuseppe Mazzaglia - Kaan Architecten
Agostino Ghirardelli - Studio Daniel Libeskind



---

The workshop

The proceedings of the workshop will be carried out by project groups, made up of international professionals, national professionals, students and graduates together with persons who represent the Senegalese community in Catania. The composition of the groups is at the sole discretion of the Scientific Committee and the choice is final. The groups will develop ten design themes chosen as a result of investigations and interaction between the organizers of the workshop, the Embassy of Senegal, the Regional Agency of the Sedhiou Development (ARDS) and the Chamber of Commerce, Agriculture and Industry Sedhiou. The Scientific Committee will assign the individual design themes to each team and will provide a master plan, some samples of materials and guidelines of the projects.
The workshop will take place in Catania (Italy) and will last seven days. The event is a performative and educational opportunity of excellence and an architectural experimentation, comparing professionals and humanitarian support. After the design phase, there will be a closing conference in the presence of the Governor of Sedhiou and the Ambassador of the Republic of Senegal in Italy. On the occasion of the closing conference there will be a public exhibition of the workshop outcomes, providing a chance to report and interconnection between Italy, Senegal and the various experiences of the studies involved. The exhibition will be the subject of guided tours for primary and secondary schools as well as university courses and / or professional master.

The project team will develop the themes assigned by the committee and present the projects at the closing conference through:

 n.2 Boards A1 to present the project;
 Architectural model;
 Abstract of Max 4000 words .

During the conference a component of each design team, selected by its members, must publicly show the project through a brief presentation of maximum 10 minutes.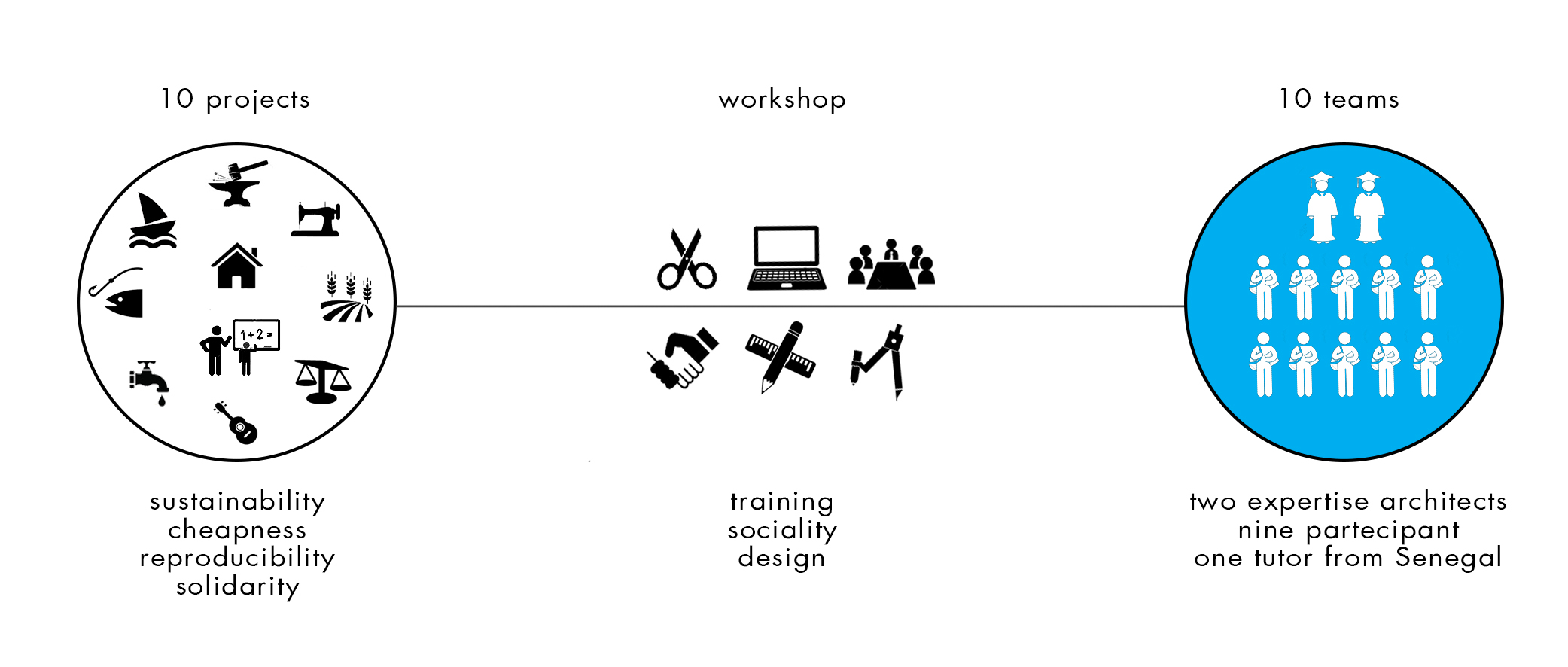 ---
Prizes and Awards

For all participants are provided:

- ECTS recognition for students
- internship Recognition
- Certificate of attendance
- Professional credits recognition for graduates

Are expected:

- Prize "Balouo Salo" released by the honorary presidents Balouo Salo (Mr. Souane and Mr. Moussa. Ibrahima Gomis "to the selected project that will be adopted by the organization Balouo Salo as a future charity project,
- Possibility of adoption of the projects by the Senegalese authorities.
---
Conventions and incentives for participants


---