2nd Prize
Team: ZHOSHICHI017359
Project by: Shimin Zhou, Wanning Liao, Tianchen Xu, Hanyang Liu, Joseph Ongaco.
from China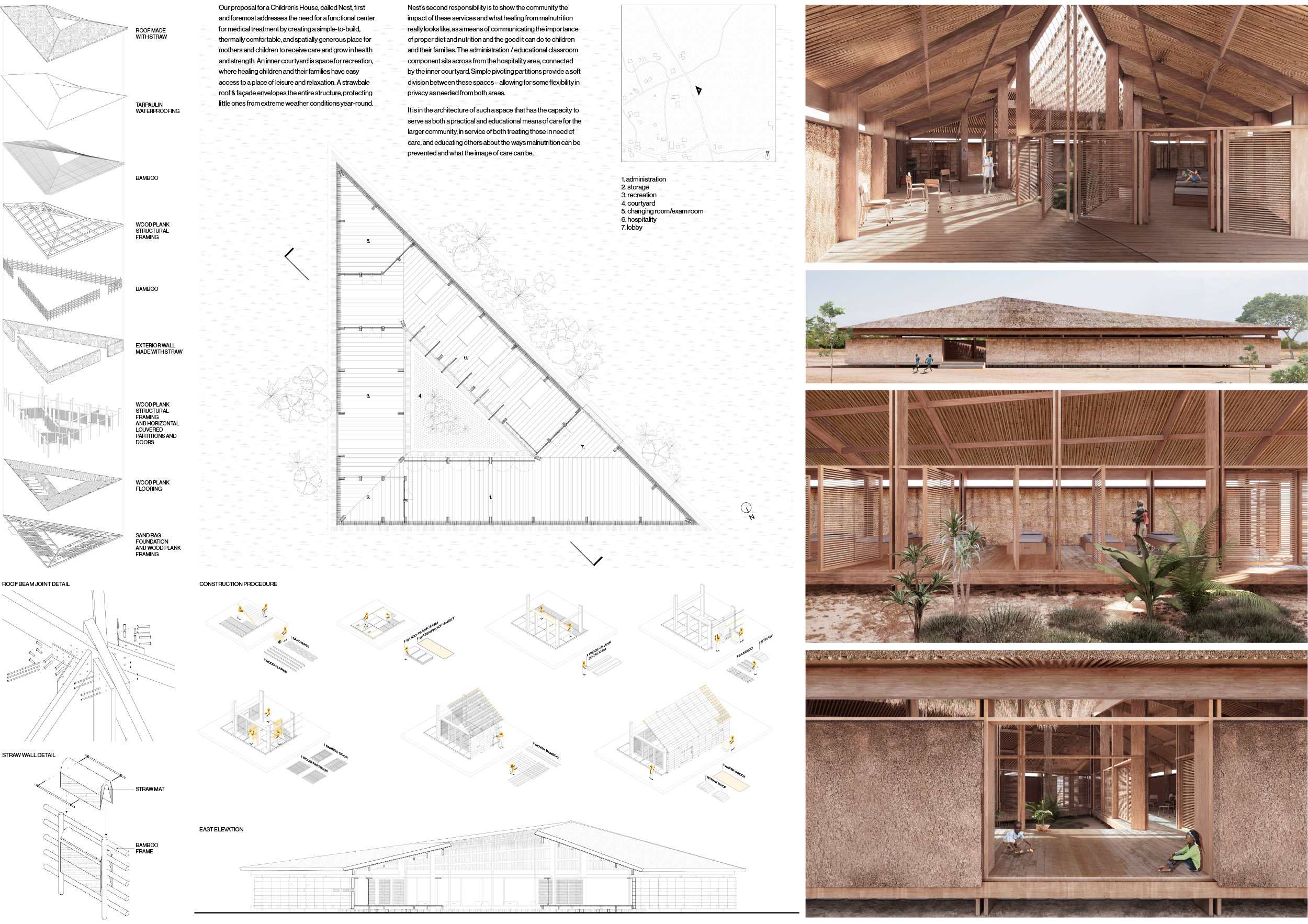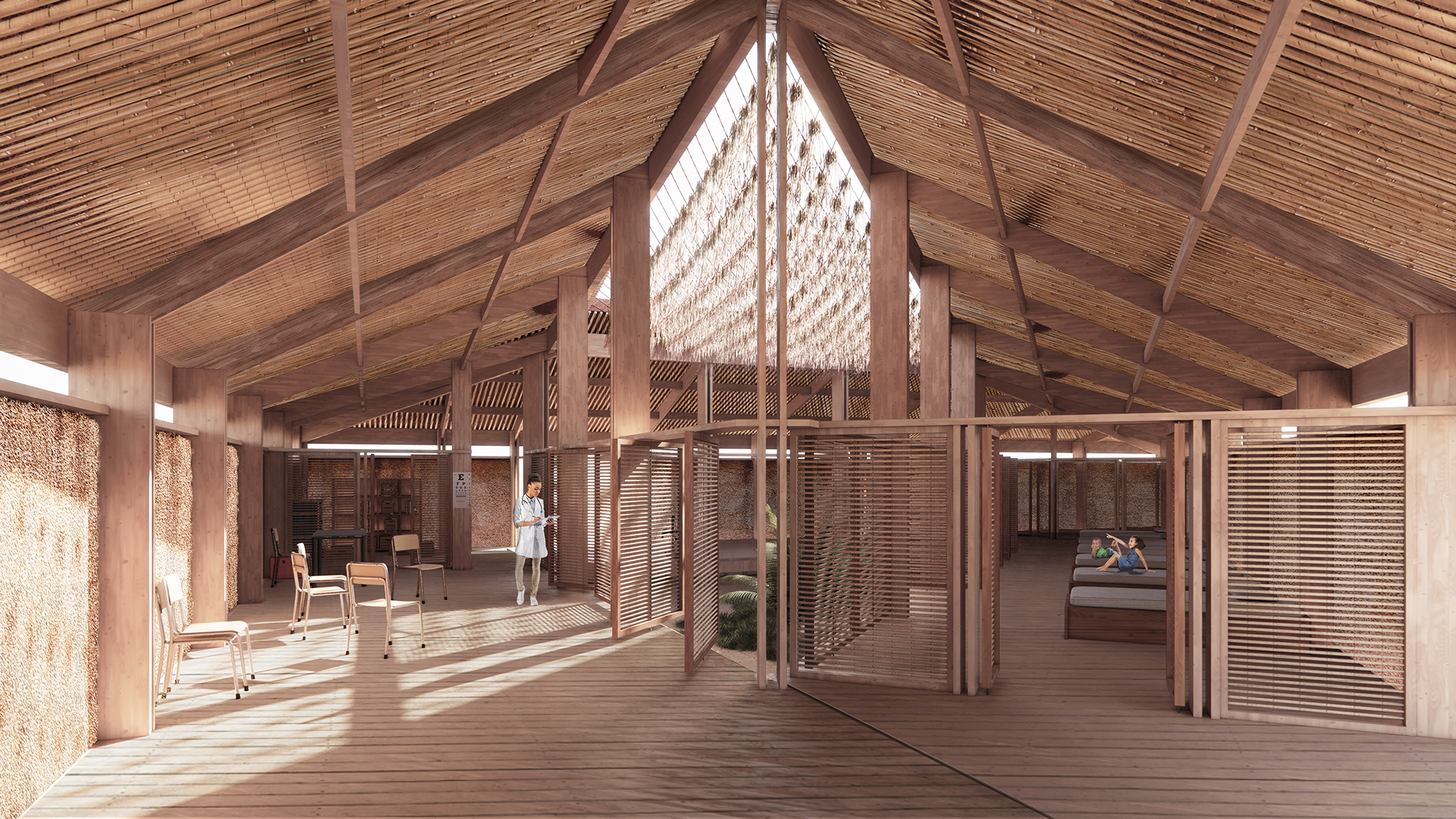 DESIGN
Child malnutrition is a worldwide problem impacting the livelihood of families and whole communities. This problem is not limited to acute cases of severe hunger and nutrient deficiency in children; it also manifests in less visual ways, such as improper diet for pregnant mothers, the lack of access to healthy food sources, and more. For the village of Baghere in Senegal, a "children's house" dedicated to medical treatment for malnutrition can be an effective response. There is no doubt that a space dedicated to hosting resources and activities that address child malnutrition can contribute to the betterment of local communities, but it is another responsibility to properly deliver the knowledge of these resources and preventative practices to the larger community. The design problem for a "children's house" like this lies in the balance of functional and symbolic space - how can we design a space so that treatment can be performed in a reasonably private and thermally comfortable place, while also serving to educate the larger community of what malnutrition treatment and healthy living looks like? How can architecture communicate towards the community the kind of environment in which hunger can be effectively treated and prevented? Our team believes that malnutrition can be addressed through an architecture of care, not only as a pragmatic and comfortable home for those needing treatment and medical attention, but as a center for community members to see firsthand the methods of living that prevent malnutrition and daily diet practices that are conducive to healthy futures for children. Our proposal for a Children's House, called Nest, first and foremost addresses the need for a functional center for medical treatment by creating a simple-to-build, thermally comfortable, and spatially generous place for mothers and children to receive care and grow in health and strength. An inner courtyard is space for recreation, where healing children and their families have easy access to a place of leisure and relaxation. A strawbale roof & façade envelopes the entire structure, protecting little ones from extreme weather conditions year-round. Nest's second responsibility is to show the community the impact of these services and what healing from malnutrition really looks like, as a means of communicating the importance of proper diet and nutrition and the good it can do to children and their families. The administration / educational classroom component sits across from the hospitality area, connected by the inner courtyard. Simple pivoting partitions provide a soft division between these spaces – allowing for some flexibility in privacy as needed from both areas. It is in the architecture of such a space that has the capacity to serve as both a practical and educational means of care for the larger community, in service of both treating those in need of care, and educating others about the ways malnutrition can be prevented and what the image of care can be.
MATERIALS
The structure consists of locally sourced and recycled materials, with the intention of creating climatically stable conditions for the children, mothers, and healthcare workers who inhabit and use the space. Gravel (or laterite stone) is used at the foundation to mitigate the onset of water during monsoons and facilitate drainage. When placed into polypropylene bags (like sandbags), they can provide a stable basis for the foundation in lieu of expensive concrete. Rosewood plank is the main structural element for both the walls and the roof and is used in a post-and-beam structure. Straw is the primary cladding material used on both the walls as a facade and the roof. It requires wild bamboo frames, which can hold hanging panels of straw. Bamboo fencing is the primary interior finish at the ceiling, and hosts the truck tarpaulin which is the waterproofing membrane.
CONSTRUCTION
First, a half-meter trench for the foundation is dug out to establish the building footprint, and angled downwards with outlets to direct water away / avoid ponding or pooling. The trench is filled with rocks as a means of draining water. Bags of stone are evenly stacked onto the rocks and are used to establish a stem wall. Further bags of stone are used to create a stable surface where wood framing can begin. For wood framing, the wood floor frame is built first on top of the even surface of bagged stone. Wood planks are attached to create the flooring. Next, further planks are stood up as posts with beams and attached to the floor framing. More wood planks are attached to these post-and-beam elements to complete the main structure. Finally, the façade and roof cladding can be assembled and then mounted onto the main structure. It begins with a frame made with notched and secured wild bamboo. Bundles of straw are arranged into panels that can be mounted onto these bamboo frames. The remaining wood and bamboo material is used to create partitions and simple pivot doors, using wood as the primary frame with bamboo shades. Bamboo fencing is woven onto the roof structure, which serves as a host for the truck tarpaulin which acts as a waterproofing membrane for the roof. Bamboo frames are brought up to the roof structure, secured, and then fitted with straw panels.
---
Team interview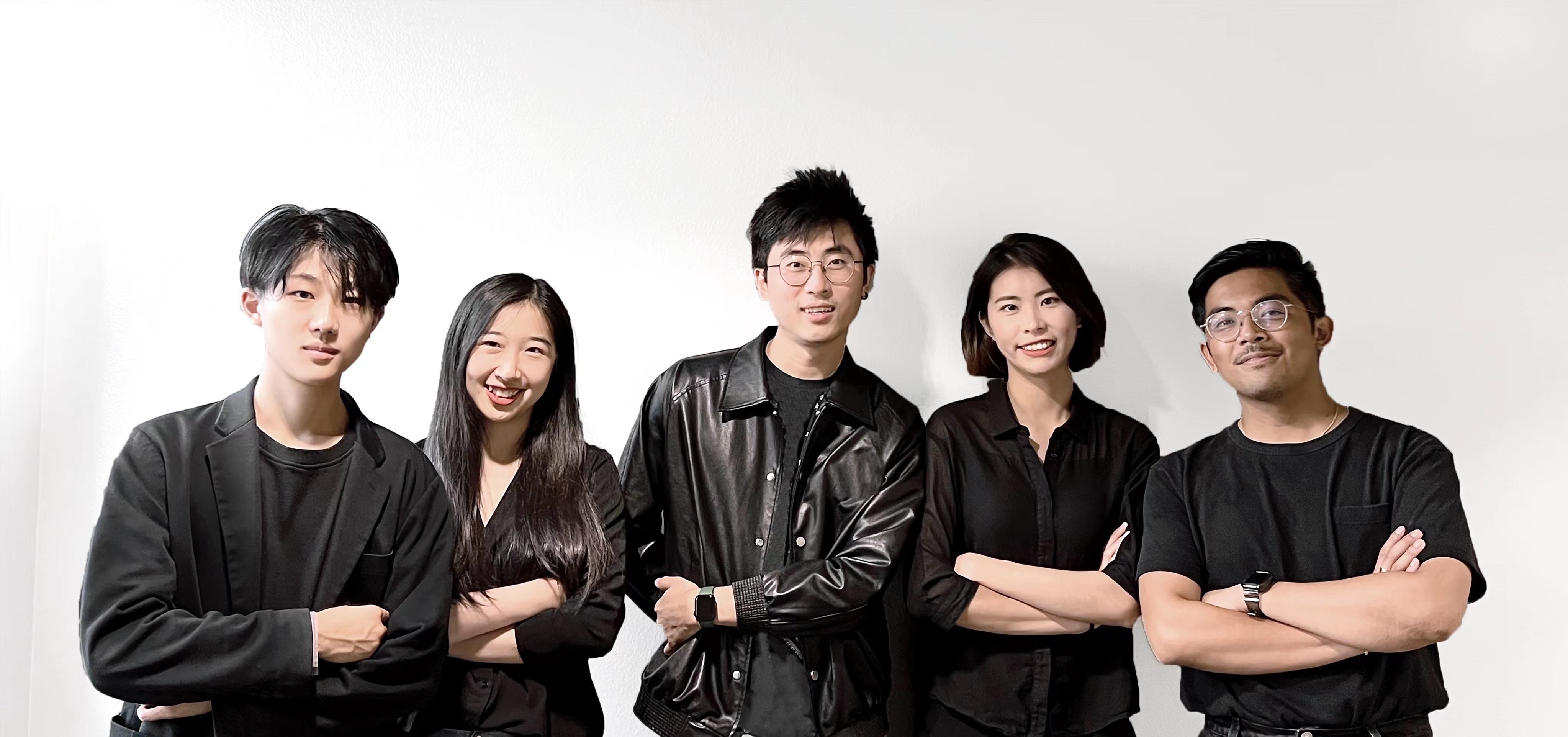 1) Can you tell us more about your team?
We are a team of five graduate students studying at the University of California, Berkeley. We come from unique academic backgrounds which include chemistry, interior architecture, materials science, and landscape architecture. We enjoy working together as a team and brainstorming during the design.
2) What was your feeling when you knew you were among the top projects of the competition?
We were pleasantly excited about the results! We put a lot of thought and research into the construction methods and materiality for the project, with the goal of designing a place that the local community can construct themselves, so it was satisfying to see that our vision for a children's house might have resonated with the jury as well.
3) Can you briefly explain the concept of your project and which is the relationship between it and the child nutrition?
Our project, called Nest, intends to be a place of healing and education for Baghere Village to help local children recover from malnutrition. More importantly, it should be a place that shows local people more options to lead a healthier life. We also believe that, though architecture alone can not solve all the problems, it can still become a tool and media to get more and more people around the world to pay attention to the child malnutrition problem in that area.
4) Which aspects of a design do you focus more during designing?
For this project our design methodology focused primarily on constructability, material, responding to the environment and creating a comfortable gathering space for the community. How to use the courtyard as an outdoor space not only generates more visual contact, but also improves indoor micro-climate with low budget and local materials is emphasised during the designing.
5) How did the material choice affect your design?
Our focus on straw as a cladding and roofing material which highly adapts to the local climate - we believe that this local material is good for insulation from heat, UV radiation, and precipitation. It is also locally available and inexpensive. And the use of straw as building material is also part of local traditions.
6) Has your project been inspired by anything-in particular, by some project in developing countries or past projects of Kaira Looro?
Our project pulls from many different influences, but we were really inspired by the straw as a material, which led us to look for precedents in Southeast Asia which use straw as a major construction component.
7) How your idea of architecture can reduce child malnutrition in developing countries, and how the local community concerned could perceive this architecture?
We believe that architecture alone does not solve problems as serious as child malnutrition. However, we wanted to use the architecture as both a functional, healing space and an educational tool to expose and educate local communities on what they can do in response to these problems. It is a demonstration of what a healthy lifestyle can look like.
8) From your point of view, what are the responsibilities of architects in dealing with complex issues such as children rights or architectures in developing countries?
Architects have control through their choice in projects that they take on. We are providing them with opportunities to build locally with local materials with the local construction method that is simple and originated from the area so not experienced worker can have job and contribute to the community.
9) The aim of the competition was also to improve the research on the topics of sustainable architecture with natural and recycled materials. How do you feel that contemporary architecture is approaching these topics?

We feel that there is more and more momentum towards sustainability as a minimum requirement in contemporary architecture. In general, we think that's what contemporary architecture can do. Architecture, as one of the greatest impacts done by humans to Earth, should reflect the pursuit of the era, which is sustainability in our age.
10) The competition registration fee, was devolved to the non profit organization Balouo Salo that helps people in disadvantaged area of Senegal. How it has affected you approach to the competition?
To help people in underdeveloped areas in Senegal was the very root of the design. It is good to know that not only the design can help the people that live there. When we started the design we approached the concept from the cheapest materials that are simple to get by the locals. To follow that strategy, we described each construction step to help them get the building constructed.
11) Your prize is an internship at MCA – Mario Cucinella Architects one of the most prestigious architecture studios in the jury. Can you express your feelings about it?

We are extremely grateful and excited for the opportunity of an internship at MCA! MCA pursues sustainability in their works around the world. It's a precious opportunity to have a working and living abroad experience.
12) The aim of the competition is also to give professional opportunities to young architects with internship prize and visibility at international level, and we wish your team the best achievements for your career. How do you think you will be in next 10 years? According to you, can this award affect your future?
We are gonna be star-architects with our own studio and continue to use our work to speak for justice, sustainability and building a better world! We will be architects with better consideration about people, environment, and society.
---
Others awarded projects
1st Prize
-
2nd Prize
-
3rd Prize
-
Honourable Mentions
-
Special Mentions
-
Finalists
-
Top 50
---