VIDNSOGAL1234
Project by: David Gonçalves, João Dias, Gonçalo Santos André, Pedro Gomes, Daniel Simões
from Portugal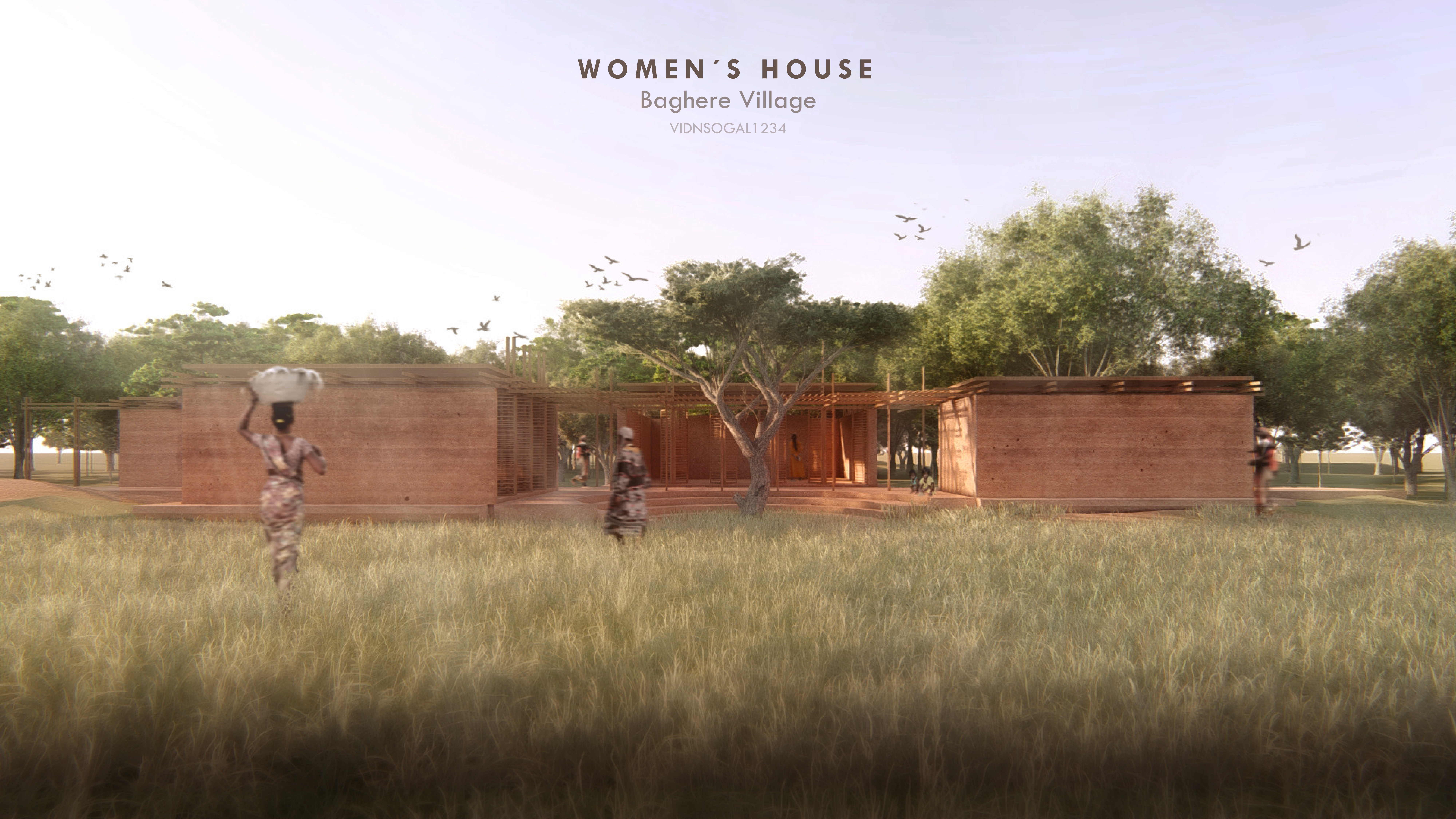 DESIGN
Designing a Women's House, for all the social importance it has, is a much greater exercise than the mere search for the most appealing form or geometry. It is, for us, an exercise of humanitarian and social nature. We set out to create a building that would provide well-being to those who inhabit it, that would meet the expectations of those who need it and that, through architecture, would play a decisive role in the success of such a relevant and urgent mission: the promotion of gender equality and the improvement of women's living conditions and empowerment. To achieve this, the search for the right design began by understanding how we wanted the building to be perceived from the outside and how we wanted it to be experienced and felt once inside. We quickly realised that for this place to be an effective tool in spreading the strong and urgent message of improving women's lives, it had to be an inviting and inclusive place, that naturally brought people together. We imagined an open space, with different volumes that can be seen and crossed in a very natural way and that relate to each other as in a small village. This is how the idea of the main street emerges, as a natural extension of the outdoor space that, in a very organic way, unites all the buildings, subtly involving and merging them into one. A public place, delicately shaded and sheltered from the sometimes harsher climate, where everyone who uses it feels comfortable and naturally motivated to socialise, to share their ideas and experiences with others. Reading all the documentation that Kaira Looro has given us on the current very vulnerable condition and discrimination against women in Senegal, and particularly in the village of Baghere, we also realised that this could not only be a place for the promotion of equality and women's emancipation in the long term. It had to have a more urgent and proximity-based social role: to serve as a safe haven for women and children who need a place to teach, learn, practice and flourish as individuals. Thus, all the spaces were designed - in their dimensions, configurations and materiality - to be flexible and to be used with great versatility. The dialogue space, for example, can be used both for meetings and as a study room for the children of the nearby school. The space for collective activities was also designed to house both theme related exhibits and to support the promotion and dissemination of the work of local artists. A simple wall in the middle of this large space simultaneously serves as a structural element, as a filter for two different areas that can be arranged separately and as an element where works or films can be projected if necessary. In order to serve not only this humanitarian mission but also the surrounding populations, and given the precarious sanitation in this village, we found it extremely important to build a volume dedicated to hygiene and sanitary facilities, in case anyone needs them at any time. Given the purpose of promotion and social awareness that this building serves, public and common spaces are the key element. It therefore made sense for us to design an open-air amphitheatre, partially covered, which is a more informal and open stage than the indoor facilities, for all those who want to gather and share.
MATERIALS
Sustainability and cost control were a priority throughout the creative process, so we used local, cheap and sustainable materials. Rosewood beams for the structural mesh that makes up the building, bamboo canes for the main street covering and doors, adobe bricks for the walls and compacted clay for the floors. As we want this building to also serve the community around it, we imagined that the construction could be a process shared by all. This implies that the constructive solutions we have adopted are simple to execute. There is a great diversity of textures and patterns in the building, but they were obtained by conjugating in a playful way the position of the various modular elements. For example, using only the bamboo canes, we obtained different patterns for the street covering and the shutters. With the adobe bricks, and just playing with the position in which one fits over the other, we got very rich and diverse patterns in the perforation of the walls. The inspiration for the design of all these elements was very much inspired by the local art and traditional building forms and techniques. We aimed to create dynamic and stimulating spaces rooted in the local culture and suited for modern day challenges.
CONSTRUCTION
The foundations of the building are made up of a concrete strip footing on which the walls rest and spread footing where the wooden pillars are recessed. The floor is formed by different layers. The deepest are made of compacted stones with varied sizes (2 to 10 cm). The surface layer of the floor is created with a mortar in the approximate proportion of 1 clay, 1 sand, ½ straw, ½ water. Due to its hygroscopicity, its necessary to protect the final surface against fog and rain. This is possible by covering it with 3 coats of boiled linseed oil. As mentioned, the walls rest on a concrete strip footing. They are formed by adobe bricks of 25cm by 30cm. In certain areas, empty spaces were left for natural light to enter the interior space. In addition to the self-supporting walls, the structure that supports the building is composed of a quadrangular grid of pillars and interspersed wooden beams. Each pillar consists of four posts embedded in concrete spread footing. The beams (in the longitudinal and transversal direction) rest on top of each other until they rest on nails that connect the wooden posts or on the building's own walls. Finally, the slab is composed of different bamboo canes tied together and covered with a mortar of cob (to protect them from the sun and moisture). These slabs have a thickness of 20 cm and a slope of 3% to facilitate the flow of water.
---
Interview to the team

Can you tell us more about your team?

We are all close in age, and our paths first crossed at different stages of our academic journey at the Faculty of Architecture of the University of Lisbon. Despite our similarities and friendship, we all have different perspectives and a different way of thinking architecture. But we always found great inspiration and a mutual admiration in each other's work that motivated us to develop this proposal together. We ended up finding, throughout the process, a shared view in our way of thinking that undoubtedly contributed to a more conscious and complete project, capable of responding to the different challenges. What was your feeling when you knew you were among the top projects of the competition?

At first it was a surprise. Before knowing the results, we were confident in the quality of our proposal, but we were aware of the challenge this competition represents. This is a contest of international dimension, which every year receives many proposals of undeniable quality and diversity from all over the world. But the surprise quickly turned into great joy and excitement that we all shared, knowing how honoured we were to receive this distinction and how important it was to see our work and effort recognized.

Can you briefly explain the concept of your project and which is the relationship between it and the Gender Equality?

Our proposal hinges around two key elements. The main street, which emerges as a natural consequence of the existing pedestrian paths and is to where all the spaces converge, and the open-air amphitheatre, which serves as an invitation to those who walk through the village, encouraging its use and welcoming everyone. This comes from the understanding that public and common spaces are essential to serve the humanitarian purpose of the building. Both spaces are designed to encourage connections and sharing of ideas. Every other space revolves around them. The values of sharing and inclusion guided our work and were what we found to be key to the success of our mission to promote gender equality and female empowerment. We wanted the building to give an opportunity and a voice to all those who want to be heard in a safe, inclusive and welcoming environment. This may be the missing catalyst for the wishes and desires of women in this community (and beyond) to finally be taken into account.

Which aspects of a design do you focus more during designing?

We believe in the transformative power and active role Architecture can play in improving the quality of life of people and communities. So the first step for us was to discover not the most appealing geometry, but the human values we wanted the space to convey. We first thought about how we wanted people to feel while inhabiting the space, how it could enhance positive relationships between all those who use it and benefit from it. Then we tried to reflect these intentions in our design process and, ultimately, in our building.

How did the material choice affect your design?

We were faithful to the materials that the organization made available to us, to assure environmental sustainability and economic viability of the building. But despite their apparent simplicity, and by combining them in different ways, we created a variety of patterns and textures that gave great diversity to the spaces. We believe that, even if they had not been suggested by the organisers, the integration of these materials in our project would have been inevitable. There was a great desire on our part to design a building that would serve not only the fight for women's empowerment, but that would also serve the surrounding communities in their daily needs. This led us to a design very closely linked to local culture and knowledge, one with which the community could identify.

Has your project been inspired by anything-in particular, by some project in developing countries or past projects of Kaira Looro?

Both the projects from past editions and other projects in developing countries (mainly in Africa) were a source of inspiration for us. The constraints of this competition, like the tight budget available required a reinvention of our creative process. Without a doubt, the originality of the proposals from past competitions and projects from renowned architects with undeniable experience in similar contexts, such as Francis Kéré, made our work much richer.

How your idea of architecture can improve Women's Empowerment in developing countries, and how the women community concerned could perceive this architecture?

In Europe, and particularly in Portugal, which is the reality we are familiar with, there is still a lot of work to be done to achieve true gender equality. But we are aware that, even so, we live in a very privileged context. Therefore, to say that we fully understand the struggle of these women in their daily lives would be unfair. We tried to face this challenge with modesty, trying our best to understand the challenges and expectations of the people and women this building seeks to serve. Understanding this, we tried to give women and the larger community a stage where they could express themselves. Where dialogue, exchange of experiences and inclusion could take place.

From your point of view, what are the responsibilities of architects in dealing with complex issues such as women rights or architectures in developing countries?

The biggest change has to occur at a social level, through increasing awareness and education of people in order to progressively break down stigma, prejudice, and to finally give women the same opportunities as men. But we think that architects have an important role to play in such an important and complex challenge. Our responsibility is to listen to people, to understand their struggles, their aspirations and, with that knowledge, to be active agents ourselves, putting architecture at the service of this and other humanitarian causes by creating spaces that provide the means for the necessary social changes.

The aim of the competition was also to improve the research on the topics of sustainable architecture with natural and recycled materials. How do you feel that contemporary architecture is approaching these topics?

It seems to us that contemporary architecture is increasingly more aware of these issues, which represents a very positive and absolutely necessary paradigm shift in order to ensure the future of the planet and all its living beings. However, we believe there is still a long way to go. Today's construction has a huge impact on environmental sustainability, both in terms of resources used and the balance of ecosystems, and we feel that these dimensions are still not properly taken into account. Both during the construction and during the useful life of the building. It is a path that we all have to take, to better understand the developments that are being made in areas that complement ours. Renewable energy sources and sustainable building technologies are essential aspects to consider in a future, more holistic, approach.

The competition registration fee, was devolved to the non-profit organization Balouo Salo that helps people in disadvantage area of Senegal. How it has affected you approach to the competition?

These contests are essential to promote equality, sustainability and the quality of people's lives and we are pleased to learn that the money of the registration fee was given to the non-profit organization Balouo Salo.

The aim of the competition is also to give professional opportunities to young architects with internship prize and visibility at international level, and we wish your team the best achievements for your career. How do you think you will be in next 10 years? According to you, can this award affect your future?

That is a hard question, mainly because of the plurality of visions within our group. We have different ideas about what we want for our lives, but we are united by the will to build our careers doing meaningful and fulfilling architecture. We are sure that the opportunity to intern in a prestigious international studio will help us make this dream come true. But regardless of that, it will always be an experience of enormous personal growth, which will certainly open the horizons and perspectives for all of us.
---
Others awarded projects
1st Prize
-
2nd Prize
-
3rd Prize
-
Honourable Mentions
-
Special Mentions
-
Finalists
---